Honda UMK435 Bike Handle Brushcutter
Recommended Add-Ons
This item:
Honda UMK435 Bike Handle Brushcutter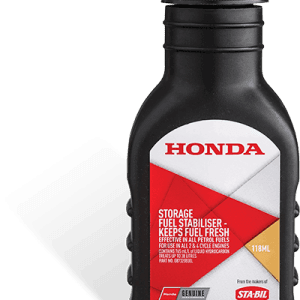 HONDA UMK435 BIKE HANDLE BRUSHCUTTER
Ultra-compact and lightweight, the UMK435 Bike Handle Brushcutter is easy to handle and will keep you working longer with less fatigue.
Boasting the latest in Honda's ultra-compact, lightweight, 4-Stroke engines, the UMK435 delivers superb power and more torque than ever before.
It's powered by Honda's Generation II GX35 Mini 4-Stroke engine, a revolutionary technology offering more power and using less oil than competitors.
Honda backs up the Brushcutter range with a 4-year Domestic Warranty, or, if you're using it in a commercial application, a 12-month Commercial Warranty.
Key Features
[one_half]
Engine: GX35
Displacement: 35cc
Bore and Stroke: 39 x 30mm (1.5 x 1.2in)
Maximum Power Output: 1.2kW(1.6hp) @ 7000rpm
Maximum Torque Output: 1.9N.m @ 5500rpm
Lubrication System: Rotary Type (oil mist)
Oil Capacity (Litres): 0.1 Litres
Fuel Tank Capacity (Litres): 0.65 Litres
Fuel Type: Unleaded[/one_half]
[one_half_last]
Blade: 4 Tooth
Anti-Vibration: Yes
Guards: 2
Goggles: Yes
Harness: Full Operator Harness
Handle Type: Bike
Drive Shaft: Solid
Dimensions: 1885mm x 640mm x 460mm
Weight: 7kg (without cutting head)[/one_half_last]