Recommended Add-Ons
This item:
Honda GXV390 Engine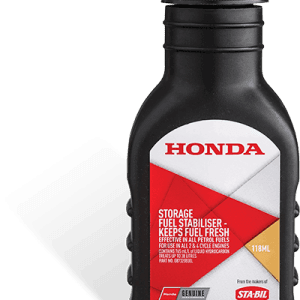 HONDA GXV390 ENGINE
The Honda GXV390 is used throughout Australia to power commercial lawn and garden equipment, including Ride-on lawn mowers.
As well as this, the GX390 is often used to power Construction/Industrial Equipment, as well as heavy-duty Agricultural equipment.
There's enough directional power in the GX390 to also power equipment such as Mini Loaders, and it's also used in Floor Cleaning applications.
Key Features
Type: 4-stroke, overhead valve, single-cylinder, horizontal shaft
Bore & Stroke: 88 x 64mm
Displacement: 389cm3
Compression Ratio: 7.7:1
Net Power: 7.6kW (10.2HP) at 3000rpm
Continuous Rated Power: 5.2kW (7.0HP) at 3600rpm
Maximum Net Torque: 24.2Nm at 2500rpm
Ignition System: Transistorised magneto ignition
Starting System: Recoil (Electric Start Optional)
Cooling System: Forced-air
PTO Shaft Rotation: Counter-clockwise (from PTO side)
Fuel Consumption at Rated Power: 2.5L/h at 3600rpm
Recommended Fuel: Unleaded
Lubrication System: Pressure and splash
Recommended Oil: 10W/30 API SG
Oil Capacity: 1.15L
Fuel Tank Capacity: 2.1L
Specifications
Dimensions: 430 x 385 x 410mm
Dry Weight: 33kg