Recommended Add-Ons
This item:
Honda GX25 Engine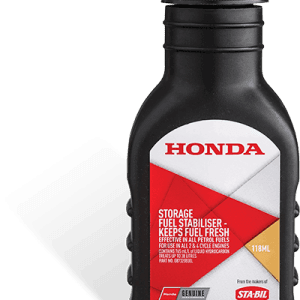 HONDA GX25 ENGINE
Meet the world's lightest OHC engine. Honda applied decades of superior engine technology to create the world's first 360° inclinable 4-Stroke engines.
Perfect for powering Commercial Lawn & Garden Equipment, The ultra-lightweight GX25 Mini 4-Stroke engine efficiently delivers the kind of efficient, clean, powerful, quiet performance that you'd expect from a larger engine – but in a very compact package.
The GX25 is also well-known for powering Tillers/Cultivators, Water Pumps, Agricultural Equipment and Construction/Industrial Equipment.
When you see the GX25 powering Honda-branded handheld equipment like brushcutters and blowers, you know you're getting a premium engine.
All GX Engines are covered by a Honda 3 Year Warranty!
Key Features
Type: 4-stroke, overhead cam, single-cylinder, horizontal shaft
Bore & Stroke: 35 x 26mm
Displacement: 25cm3
Compression Ratio: 8.0:1
Net Power: 0.72kW (1HP) at 7000rpm
Maximum Net Torque: 1.0Nm at 5000rpm
Ignition System: Transistorised magneto ignition
Starting System: Recoil starter
Cooling System: Forced-air
PTO Shaft Rotation: Counter-clockwise (from PTO side)
Fuel Consumption at Rated Power: 0.54L/h at 7000rpm
Recommended Fuel: Unleaded
Lubrication System: Oil mist
Recommended Oil: 10W/30 API SG
Oil Capacity: 0.08l
Fuel Tank Capacity: 0.55L
Specifications
Dimensions: 192 x 221 x 230mm
Dry Weight: 2.78kg (w/o clutch)